Post PodCamp Energy
[audio:https://www.jonathannation.com/0002lwtw-pcn11.mp3]
[download MP3 – 30:52]
The focus of the week was PodCamp Nashville 2011. There were activities before and after this one day event, but so much was packed into those short 10 hours that it's hard to look before or after it.
A major Realization
One guy I talked with at PodCamp was saying that he wants to share some of the knowledge he has from his years of being one of the greatest in his field. He still travels around the USA to big companies and venues to do this task, but nobody is really sharing about how to do what he does.
I encouraged him to go ahead and record what he does as audio. He has all the knowledge & equipment to do just that.
Then a lighbulb went off in my head.
I have all the equipment, knowledge, and ability to record my thoughts. I should do just that, then do a small post & push it out there.
This is my new plan:
outline – to help keep me focused
record audio
put audio out there
Expect more of my thoughts, ideas, and views on both my personal site & my business sites, like AllyNation.com
Last Week;
Two episodes, one had been in the can for a while.
Cube0021 – Means to an End
[audio:http://www.startingcube.com/cube0021focus-on-the-end-goal.mp3]
on Cube21 – Means, Ends, Sun Tzu, Art of War & Business
[audio:http://media.ansp.com/ANT0002on-Cube21-Means-End-Sun-Tzu-Art-War-Biz.mp3]

Cube0022 – Coloring Sheep
[audio:https://www.jonathannation.com/0002lwtw-pcn11.mp3]
Decided to just produce the episodes as they come to me, currently there are over 10 cubes sitting there. I want to spread them out, especially 4 that are from the same show. There are others from books I have written down.
Found an interesting project by TED on Future of Advertising
eBook – new apporach
learning about WordPress Multi-site – part of the idea of migrating to a new host
Family
Decided on the Will stuff, need to finish with the print out  & go get signed
Tax numbers – worked on them, almost done

Me
Finished reading Stop Acting Rich & Live like a Real Millionaire – part of my 2011 Reading Intentions
Dentist & Haircut taken care of
2011 Movie  Post
PodCamp Nashville – best PodCamp I have been to this year.
This Week
Record & Release 2 episodes, but also record some of the backlog of cubes I have for future
Post more – I find stuff worth sharing & commenting on – work on the system for that
eBook – record some chapters, segments, or gather old emails. Not sure what final products will be (audio, video, and/or text) but progress will be made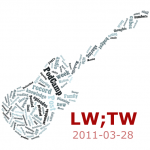 Me & Family
Final numbers to Accountant – hope to do this Monday
Will – printed & signed
April Budget – our family writes out a budget a budget each month
Other & Unclassified
Post PodCamp post – something, not all media, but at least one writeup (posted somewhere)
– this post PodCamp element is really the biggest thing for the week.
It was a great weekend, preceded by a good week. I look forward to digesting, planning, acting & shipping new media out of me.