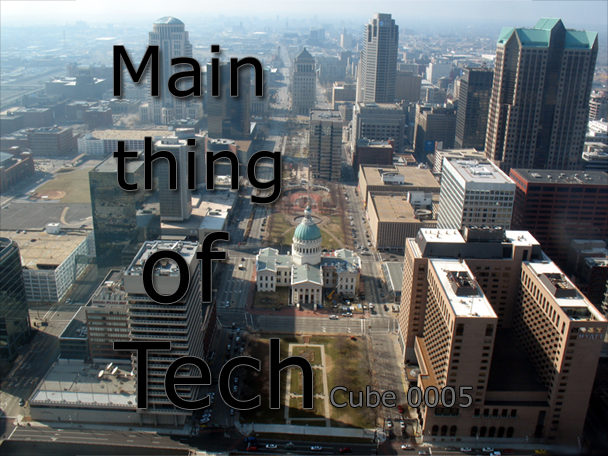 Starting Cube has been a fun project, but as I was producing the audio & images for episode 5 – Main thing of Tech – I was getting excited about this post.
Best place to start is listen to that episode:
Starting Cube 0005 – Main thing of Tech [mp3 – 5:36]
[audio:http://www.startingcube.com/cube0005-main-thing-of-tech.mp3]
Now I had some options, but decided that I would both produce some text explanation & audio, because people learn different ways.
Here is the first segment/post/episode of me just talking about something in audio:
[audio:https://www.jonathannation.com/0001MakeMean.mp3]
[mp3 – 16:05]
Now for people who prefer to read:
I know when I have to choose between text based learning and audio based learning – I pick the audio. Text is so much harder for me to get into my head. Emailing with Cliff Ravenscraft recently – he says he is a visual & the text on a page helps. I know other people who need talking heads, or movement to keep their focus. Because of that, and that I am quicker (might have said better) at talking then writing, I plan on recording more segments like this.
Making Starting Cube #5
This took me much longer then I wanted.
The first struggle was finding the right cube (clip, quotation, etc)  to center the episode around.
First I looked at the notes I have a few places with clip ideas.
Then I looked at the many notebooks that I have accumulated over time.
Finally I found the clip I wanted to use. Before StartingCube, I had made similar episode of a never really released show, but with some differences:
Starting Cube – goal is to set out an idea & get out of the way
other show – set out the idea & then direct the audience in thinking a specific way
I am glad I have the clips, but mostly just to reference ideas.
The format of ep #5 was messed with a little too, I would love feedback on that.
The Picture – St. Louis Skyline
I was thrilled to use this image. It's from the Arch (or Gateway Arch).
The story goes, I went up in the arch and turned on my phone.
A client called – wanting an update to the website. I was armed with an android based smartphone. I made the changes form the arch.
I also IMed with people from the arch.
I would not be able to travel as much as I do if it were not for me being able to provide value, or help, people from most anywhere I am.
I also would not be able to provide as much value to my clients if I did not explore new things nearly as much as I do … part of that is traveling & exploring.
Meaning to Me
All technology has one main purpose – help you achieve your goals by taking away or making easier to do work.
Same thing applies to employees, vendors, contractors, businesses, coaches, and consultants.
A reason you hire a person or business is to take on what you don't need to be doing, so you can focus on what you do.
It's a form of trade & trade is what makes us wealthy.
Most anything I do can be done by you, but how much time would it take you compared to me & paying me my hourly rate?
People partner with me on ventures/businesses because I bring the experiences, networks, and problem solving abilities in areas that they don't have.
Win-Win-Win situations are those that you use the strength of others (or technology) and then you can use your strengths (as opposed to areas you are weaker).
So, what about you?
What were your thoughts either of this post, the new audio, or StartingCube #5?
I really want feedback & appreciate you valuing what I have done enough to listen. I hope it helps.